Miguel Woodward Iriberry, priest and MAPU activist
Justice has once again favoured human rights violators. The Court of Appeals in Valparaiso, investigating the disappearance of British Chilean priest and MAPU activist Miguel Woodward Iriberry, has determined that the agents involved will not serve any prison sentence.
José Manuel García Reyes and Héctor Fernando Palomino López were sentenced to three years and one day in prison but granted the benefit of probation.
Manuel Atilio Leiva Valdivieso was acquitted on grounds of dementia. The remaining agents, Carlos Alberto Miño Muñoz, Marcos Cristián Silva Bravo, Guillermo Carlos Inostroza Opazo, Luis Fernando Pinda Figueroa and Bertalino Segundo Castillo Soto were absolved due to lack of evidence of participation.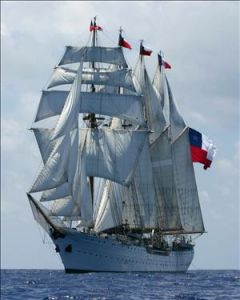 The torture and detention ship, Esmeralda
Woodward was arrested at his home in Cerro Placeres, Poblacion Heroes del Mar, in the aftermath of the military coup, according to the Rettig Report on September 16, 1973 by Navy officials. He was transferred to the University Federico Santa Maria where he was brutally tortured by simulated drowning in the pool until suffocation. Following the almost fatal torture, Woodward was transferred to the Esmeralda - a naval ship which served as a detention and torture centre. According to testimony from the second in command of the Esmeralda, Eduardo Barison, Woodward died on the ship from the excessive torture inflicted upon him. The official death certificate indicates cardiac arrest as the cause of death, while the prosecution argues that Woodward died as a result of internal bleeding from torture.
Attempts to recover Woodward's body for a proper burial were futile in the wake of systematic disappearances. Following testimony about a mass grave given by the former director of the cemetery at Playa Ancha, an excavation order was given in 2006 to exhume the Woodward's remains. However, the excavation was called six days later as no remains were unearthed. According to the cemetery's records the last burials took place in 1979; however an excavation, presumably to remove the remains of the desaparecidos took place before 1989 and the downfall of the military dictatorship.
Relatives and friends of Woodward have stated that they will appeal the ruling by Jolio Miranda Lillo, declaring the ruling unsatisfactory after eleven years of judicial struggle in pursuit of memory and justice. Throughout the years, 33 people have been accused of the torture and disappearance of of Woodward - only eight made it to the courts, with impunity proving to be a formidable opponent against justice. The family is also considering a petition for the dismissal of Miranda's role in deciding human rights violations cases.